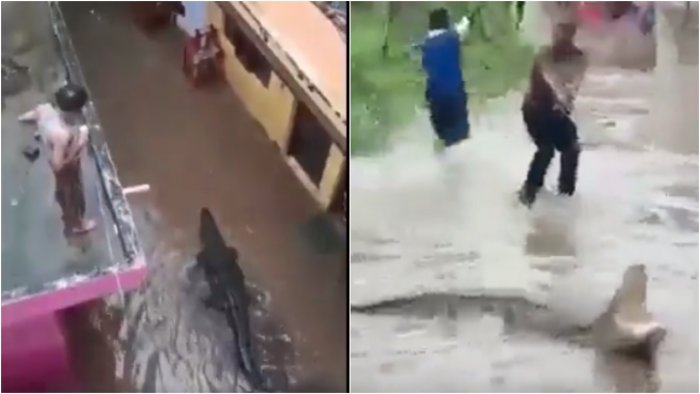 People in the Laksar and Khanpur regions of Uttarakhand's Haridwar district are faced with a new scare – crocodiles have started making their way into residential areas flooded by the swollen Ganga and its tributaries.
The Forest Department has been catching the reptiles that are coming with the floodwaters of the Ganga and its tributaries -- the Ban Ganga and the Sonali rivers -- and releasing them back into the rivers.
Also Read — Incessant rain continues to lash Uttarakhand, CM reaches disaster control room
An official of the department said that so far, around a dozen crocodiles have been captured from the populated areas along the main rivers. The department has deployed a team of 25 employees in the Laksar and Khanpur regions to catch crocodiles.
Due to heavy rainfall in the past week, the water level of the Ganga has risen, flooding the Laksar and Khanpur regions, while a breach in a dam on the Sonali river has worsened the flood situation.
#Crocodile floating in #Ambala streets... 😳😳😳#Haryana #HARYANARAIN #Monsoon2023 #Heavyrainfall #Yamuna pic.twitter.com/huYqgmG5Ww

— Atul Chhabra (@AttiAtul) July 11, 2023
Last week, Uttarakhand Chief Minister Pushkar Singh Dhami inspected the affected villages. On Monday, the water level receded in some areas of Laksar, but heavy rainfall on Tuesday caused the water to rise again.
Also Read — Uttarakhand floods: CM Pushkar Dhami ask ministers to camp in districts to oversee rescue operations
Amit Giri, a local, said a large crocodile took refuge in a bathroom in the Khedikalan village of Khanpur, and a Forest Department team captured and released it back into the river.
Neeraj Sharma, the Divisional Forest Officer of Haridwar, told PTI that a significant number of crocodiles are found in the Ban Ganga and Sonali rivers, which have reached the populated areas along with the floodwaters.
He stated that when the water level slightly decreased, most crocodiles returned to the rivers, but some strayed into residential areas.
Amberish Garg, the chairman of the Laksar Municipality, said crocodiles mostly enter the drains and ponds of rural areas through the Sonali and Ban Ganga rivers.
He added that several incidents of crocodiles entering populated areas have been reported this time.
Get a round-up of the day's top stories in your inbox