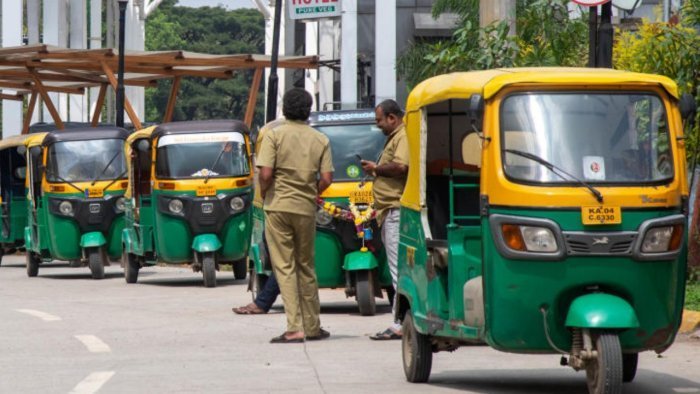 Auto Rickshaws to and from the metro stations across the city will soon run on meter fares, confirmed Rudramurthy, general secretary of the Auto Rickshaw Drivers Union (ARDU), on Thursday. 
These autorickshaws will take up rides via an application named MetroMitra -- which will operate on the ONDC network -- and charge meter fares with a flat Rs 10 charge to cover technology and pickup costs. It will probably be launched by the ARDU on August 15, Rudramurthy told DH.
"We are doing trial runs now and training auto drivers to be professional," he added.
Also Read: Auto drivers urge govt to pay Rs 10k per month as compensation
Rudramurthy was speaking at a press conference organised by B PAC and WRI India, who launched their #Personal2Public campaign encouraging people to commute via public transport at least twice a week.
ARDU is in talks with the BMRCL to integrate MetroMitra services with the BMRCL WhatsApp chatbot and enable customers to raise a request for an autorickshaw through it.
Satya Arikutharam, urban mobility expert who facilitated the discussion between technology provider Agnibhu Technologies and ARDU, explained how the service would work. "If a metro commuter buys a metro ticket via the BMRCL WhatsApp chatbot, they will get a pop-up asking if they would like an auto to get to the station and from their destination. If they agree, they will be asked to share the location and assigned an auto," he told DH.
The union is also planning to display QR codes titled "Know Your Credentials" in each auto that signs up for the service, where customers can check the driver's details. This will also enable customers to immediately flag issues or leave any remarks about the ride, Sathya said.
MetroMitra will undergo beta testing in a few metro stations in the southern part of the city in a couple of weeks. Autorickshaw drivers who wish to be a part of this last-mile solution can approach the ARDU directly, he added.
MetroMitra's USP 
* First and last mile: Auto-rickshaw rides both to and from metro stations.
* Metre-based fares with Rs 10 for technology and pick-up costs.
* Trained, professional drivers who have undergone sensitisation and grooming sessions.
* QR code-based direct feedback to drivers.
Get a round-up of the day's top stories in your inbox