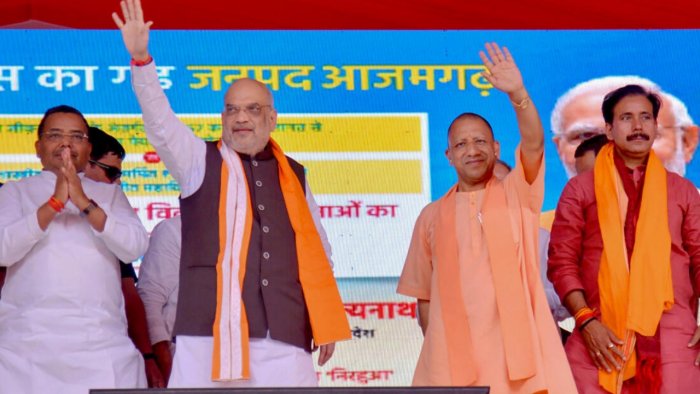 The Congress on Friday approached the Election Commission urging it to register FIRs and disallow Union Home Minister Amit Shah and Uttar Pradesh Chief Minister Yogi Adityanath from campaigning in Karnataka elections for making "false, malicious and unverified" allegations against the party.
It has also demanded the cancellation of the candidature of Minister V Somanna, who is contesting against Congress Legislature Party leader Siddaramaiah in the Varuna seat, for allegedly offering bribe to a candidate to withdraw from fighting the election in his constituency.
Also Read | Karnataka will be afflicted with riots if Congress comes to power: Amit Shah
A delegation led by senior Congress leaders Mukul Wasnik and Abhishek Singhvi met the Commission and handed over separate memoranda demanding strict action against the three BJP leaders, including criminal proceedings.
"They (Shah and Adityanath) have made statements clearly directed against Minority Communities. There is clearly a self-fulfilling prophecy, as if communal issues can be raised in this manner. n. We all understand that the window of election is very narrow, and therefore clear, strong, effective ground action by the EC is vitally necessary on an urgent basis," Singhvi told reporters after the meeting.
Seeking action against Shah, the Congress has referred to his comments about Karnataka being afflicted by riots if it forms an election, lifting the ban of Popular Front of India among others.
"The statements made by Amit Shah are likely to incite any class or community of persons to commit any offence...the statements indirectly threaten and try to mislead electors into voting for a particular political party and candidate," the party said.
"In the history of Indian elections, this is the first time that the sitting Home Minister has made such irresponsible, reckless and false statements, all to marginally improve his party's chances in a state election. This is a grave and serious breach of the law not to mention direct abdication of the duties vested in the office of the Union Home Minister," it said.
Referring to UP Chief Minister as Ajay Bisht with Yogi Adityanath in brackets, the memorandum signed by Congress General Secretary Randeep Surjewala said the BJP leader was trying to create communal strife in the poll-bound state. The memorandum spoke about Adityanath's remarks that Congress was an expert in appeasement politics and it was supporting banned outfits like PFI.
Surjewala said in the memorandum that the Commission should "note the pattern, which is being followed by Ajay Bisht as well as other star campaigners of the BJP".
"It may be reiterated that the BJP and its leaders first raise unverified and false allegations against the Congress and its leaders, thereafter bring in malicious allegations which involve religion and which tends to promote or create enmity between groups on grounds of religion," he said.
On Somanna, the Congress alleged that the BJP Minister has made a serious and direct attempt to influence the elections by offering a bribe to JD(S) candidate Mallikarjuna Swamy, who is contesting against him in Chamarajanagar. Somanna is contesting from two seats. 
It alleged that one Sudeep, a government employee, is allegedly facilitating this "illegal" transaction. The Congress also shared media reports and transcripts of alleged conversations about the deal. 
Get a round-up of the day's top stories in your inbox