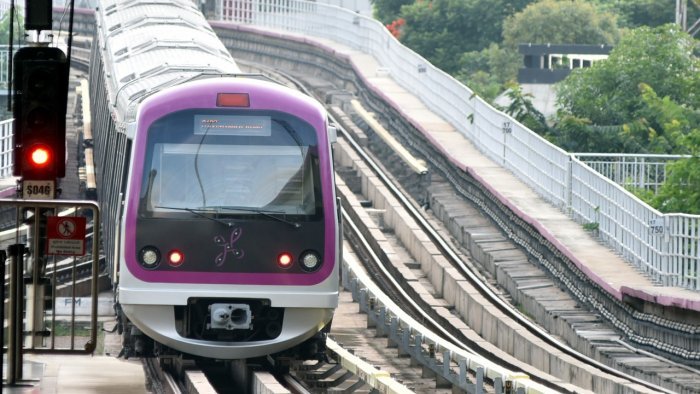 Namma Metro on Tuesday started test-charging the 33 kV cables and the 750V DC third rail along the viaduct in the Baiyappanahalli-KR Pura and Kengeri-Chellaghatta sections of the Purple Line. 
This is one of the many first steps towards commissioning the 2.1-km KR Pura-Whitefield and 1.9-km Kengeri-Challaghatta lines by August-end. 
Read | NHAI sets up panel for safety inspection of Bengaluru-Mysuru expressway
As part of the standard operating procedure, Bangalore Metro Rail Corporation Limited (BMRCL) issued a public notice, asking citizens not to enter the viaduct in the said areas without authorisation. "Any direct contact with 750 V third rail or 33 kV cables could be fatal..." it said. 
B L Yashavanth Chavan, Chief Public Relations Officer, BMRCL, said test-charging was the first step in checking all electrical systems. This will be followed by static and dynamic tests. The next step involves conducting service trials, which refers to running trains on the track as they are during commercial operations. 
In the last step, the Commissioner of Metro Railway Safety (CMRS) will inspect both the lines, he said. Chavan hoped that the CMRS inspection would take only a day or two at most. 
Once the CMRS gives clearance, both lines will be ready for commercial operations by August-end, he added. 
Get a round-up of the day's top stories in your inbox