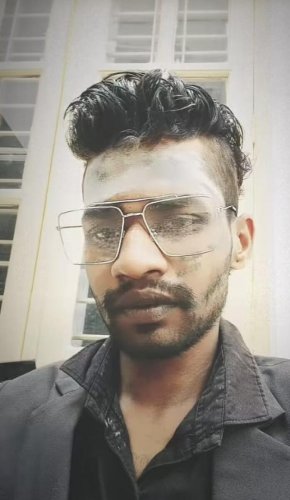 The Bengaluru double murder case, allegedly masterminded by a social media star who calls himself 'Joker Felix', has brought into focus the rap subculture, one that many believe hinges on crime, shock value and irreverence. However, Bengaluru's rapper community clarifies that this is far from the truth. 
"Gangsta rap evolved from American artistes, who had criminal backgrounds. They often rapped about women, drugs and crime. But, this is not all what rap is about. There are plenty of subgenres. Most of Bengaluru's rappers focus on conscious rap, which highlights social causes and other serious issues," states Kannada rapper Yaaru. For instance, one of his latest tracks, 'Yaake', speaks about mental health.
Shabarish aka Felix, with his tattooed face and eyeball-grabbing social media profile (which has pictures of him sitting atop a gravestone and videos of him performing while holding a human bone and a skull), is basically doing what he needs to do to get more followers, says Yaaru. 
Gangsta life
Gangsta rap was popularised by the likes of 50 Cent and Tupac Shakur. The now-controversial Kanye West rose up the charts in the mid-2000s, bringing with him a preppy freshness to a genre dominated by violence, observes rapper Samir Mohanty aka Big Deal. "Of course we have adopted the bling, baggy clothes, sunglasses and tattoos, generally associated with the gangsta rappers, but that's where the similarities end," he says. "One has to be mature enough to know where to draw the line," he adds.   
Karthik Gubbi believes that a certain section of self-proclaimed rap musicians focus too much on their image. "Some people get carried away with their appearance and everything around it, instead of focusing on the artistry, because that gets more attention,"
he explains.
Criminal intent
Rapping is about being real, says MC Bijju. "It's not about looks. It's not about sugarcoating the truth. But it also has to be believable. Is Felix a victim of peer pressure and is he fuelled by a need to fit the image of an authentic gangsta rapper? It is likely, but certain kinds of crime cannot be committed unless you have a criminal mind to begin with," he says. 
According to All Ok, social media has made it possible to get attention in a short span of time and this has led to multiple problems. "It's not true of all of them, but some of the new lot of artistes don't want to work hard. They want instant gratification. This kind of negativity and violence instantly catches people's attention, while positivity does not," he laments. Despite rappers of repute and fans of the genre calling him a 'cringe' artiste (artistes who gain a following for their cringey music, such as Dhinchak Pooja and Taher Shah), Felix's Instagram handle, which had 16,000 followers on Wednesday has over 17,000 followers as of Thursday evening. 
Violence sells
Psychologist Kala Balasubramaniam states that influencers' social media image is typically very different from their reality. When the two start matching, it gets problematic, she shares. "Posting on social media is one thing but how does one appropriate it and act on it are questions that need answers," says Kala. Stating that his behaviour cannot be considered normal, she says that it is unwise to speculate beyond that.
"Unless there's an official examination and diagnosis, we cannot exonerate him of the crime by blaming it on his mental health," she tells Metrolife. With easy access to violence on video games and social media, there's an affinity for shock value, even among children. "I get a sense that life is not valued as much as before. This is something to ponder as a society," she concludes. 
WHAT HAPPENED
Shabarish aka Joker Felix, who calls himself a fashion model and Kannada rapper, allegedly plotted and killed Phanindra Subramanya and Vinu Kumar, the MD and CEO respectively of Aironics Media Pvt Ltd. They were business rivals. Felix was aided by two others. The trio used a machete, knife and sword to hack Phanindra and Vinu to death at their office in the middle of a busy work day
Get a round-up of the day's top stories in your inbox