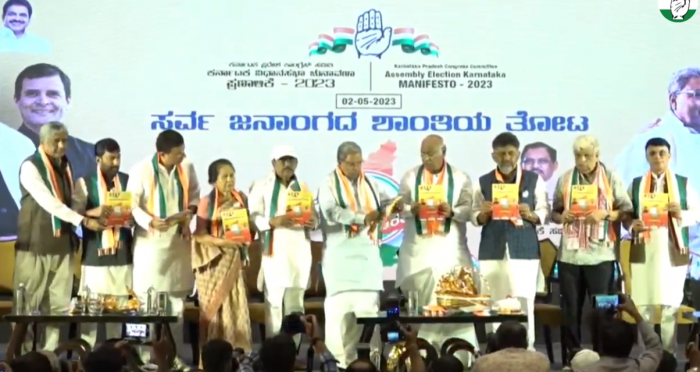 The Congress on Tuesday announced its manifesto which sought to counter the BJP's Hindutva narrative and emphasise Karnataka as "Sarva Janaangada Shantiya Thota" (paradise of peace for all communities), in the words of state poet Kuvempu. 
Inclusion, peace, Global Karnataka, better Bengaluru, rural self-dependence, and corruption-free governance are some of the broad areas that are part of the Congress manifesto. The party will take strict action against those spreading hate on the grounds of caste and religion, the manifesto stated. It named organisations such as the Bajrang Dal and the PFI, promising a ban on organisations that promote hatred either among the majority or the minority communities. 
One of its most significant assurances is to increase the reservation to 75 per cent from the existing 50 per cent.
 
"The BJP government has made a mess out of the reservation issue," remarked Congress Legislature Party leader Siddaramaiah, promising that his party would increase the reservation ceiling by including all communities.
"The Supreme Court ceiling of 50 per cent reservation is not set in stone. By establishing "special circumstances" and by inclusion of these amendments in the ninth schedule, the government can increase the reservation," he said.
The party will also publish the socio-economic survey report, based on which the reservation matrix for backward communities will be decided, he added. 
The party has included the welfare of Kashmiri Pandits (an issue on which Congress has been attacked by BJP consistently) as part of its manifesto too by promising Rs 15 crore for Kashmiri Culture Centre.
For good measure, the party has also ticked the box of temple upgradation. There are 1.8 lakh temples in Karnataka of which only about 35,500 fall under the Muzrai Department. The rest of the temples are neglected by the department, the party stated in its manifesto by assuring a special 'Pooja Nidhi' for these temples. It has also promised Rs 20,000 for all 'Grama Devathe' (village deity) and fairs. 
The manifesto has specific plans for different regions of the state, with an exclusive list of assurances for the development of Bengaluru. Construction of North-South and South-East elevated flyovers, the extension of Cauvery water supply to all parts of the city, creation of a 'Mega Bengaluru Region' with administrative links to Kolar, Chikkaballapura, Doddaballapura, Tumakuru, Ramanagara and Kanakapura, rejuvenation of Indira canteens, are among its promises for Bengaluru. 
As for the five guarantees, including Anna Bhagya (10 kg free rice), Gruha Jyothi (200 units of free electricity), Gruha Lakshmi (Rs 2000 to housewives), Yuva Shakti (Rs 3000 per month for two years to unemployed youth) and Shakti (free travel for women through the state), it will be implemented in the very first cabinet meeting, Siddaramaiah assured. 
Highlights:
* Insurance of Rs 10 lakhs to Pourakarmikas
* Rs 5000 honorarium per month for senior priests
* Increase of interest-free loans to farmers from Rs 3 lakh to Rs 10 lakh
* Increase of RTE Act income limit to Rs 5 lakh
* Filling up 2.5 lakh vacant government posts
* Increase in milk subsidy from Rs 5 to Rs 7 per litre
* Rs 50,000 crore for Mahatma Gandhi Gram Swaraj Scheme
* Increase of Anganwadi workers salaries to Rs 15000
* Asha workers honorarium hike to Rs 8000
* Setting up gig workers' Board at Rs 3000 crore
Get a round-up of the day's top stories in your inbox