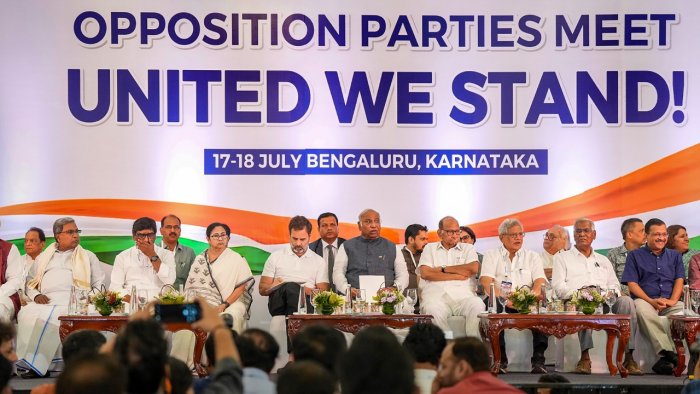 On day 2 of their meet in Bengaluru, 26 Opposition parties christened their new alliance I.N.D.I.A, daring the ruling BJP-led NDA with a "catch us if you can" challenge. They also decided to set up a 11-member coordination panel and a joint secretariat to decide on the face of the alliance and come to a seat-sharing arrangement, likely on the basis of a Common Minimum Programme.
Here's everything you need to know about this new Opposition bloc.
What is the full form of I.N.D.I.A and how did the parties arrive at the acronym?
I.N.D.I.A stands for 'Indian National Developmental Inclusive Alliance'. The original suggestion was to call the alliance "Indian National Democratic Inclusive Alliance", but the word "democratic" was replaced with "developmental" after some leaders said it sounded too similar to the ruling National Democratic Alliance (NDA), sources told PTI.
Also Read | Opposition pitches NDA versus I.N.D.I.A battle for 2024
Who coined I.N.D.I.A and when was it formed?
Some leaders said TMC chief Mamata Banerjee suggested the 'I.N.D.I.A' name and Rahul Gandhi agreed. Others, including Congress spokesperson Supriya Shrinate said it was Rahul who came up with the nomenclature.
While the 'I.N.D.I.A' name first came up during the informal dinner Monday night in Bengaluru, sources told PTI that it took time to decide on the full nomenclature. A senior leader said, the name was decided at the fag end of the official deliberations on Tuesday.
The opposition leaders also deliberated on some other names, but 'I.N.D.I.A' was finalised after a consensus. One such suggestion was to call the coalition 'India's Main Front (IMF)'. Some other suggested names were 'Indian People's Front', 'Indian Progressive Front' and 'We For India'.
When a leader reportedly mentioned 'We For India', Rahul Gandhi remarked, "We should go for 'I.N.D.I.A'". Gandhi was the last speaker at the meeting.
Why the name I.N.D.I.A?
One ostensible reason for the parties coming up with the acronym is the rhetorical difficulty in attacking it, in a literal sense at least.
Referring to the name of the alliance, Banerjee said, "BJP, can you challenge I.N.D.I.A? We love our motherland, we are the patriotic people of the country, we stand for farmers, Dalits....I.N.D.I.A will win, our country will win and BJP will lose".
Also Read | 26 opposition parties' joint resolution pitches for conducting caste census
Gandhi said the fight was not between the opposition parties and the BJP, rather a "fight for the idea of India that was being attacked".
"That is why this name was chosen. The fight is between NDA and I.N.D.I.A, between Prime Minister Narendra Modi and I.N.D.I.A, between their (the BJP's) ideology and I.N.D.I.A. We (opposition parties) are defending the Indian Constitution, the voice of the people and the idea of our great country. You know what happens when someone stands against India," the former Congress President said.
Who are the parties in the I.N.D.I.A alliance?
The alliance includes the Indian National Congress (INC), All India Trinamool Congress (TMC), Dravida Munnetra Kazhagam (DMK), Aam Aadmi Party (AAP), Janata Dal (United), Rashtriya Janata Dal (RJD), Jharkhand Mukti Morcha (JMM), Nationalist Congress Party (NCP) – Sharad Pawar faction, Shiv Sena (UBT), Samajwadi Party (SP), Rashtriya Lok Dal (RLD), Apna Dal (Kamerawadi), Jammu and Kashmir National Conference (NC), Peoples Democratic Party (PDP), Communist Party of India (Marxist), Communist Party of India (CPI), Communist Party of India (Marxist-Leninist) Liberation, Revolutionary Socialist Party (RSP), All India Forward Bloc, Marumalarchi Dravida Munnetra Kazhagam (MDMK), Viduthalai Chiruthaigal Katchi (VCK), Kongunadu Makkal Desia Katchi (KMDK), Manithaneya Makkal Katchi (MMK), Indian Union Muslim League (IUML), Kerala Congress (M) and the Kerala Congress (Joseph).
(With inputs from PTI and DHNS)
Get a round-up of the day's top stories in your inbox