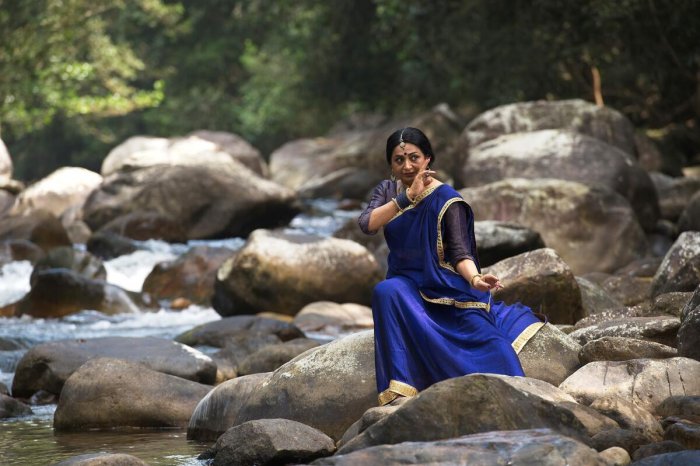 It's not easy to digitise and encapsulate an epic of enormous proportions for an audience comprising all age groups. But Switzerland-based kathak artiste Pali Chandra has managed to do just that. After more than five years of meticulous research, hard work and dedication, she has brought out the first-ever portrayal of the entire 'Gita Govinda' in Kathak.
Backed by the Kerala-based online academy NatyaSutra, the new-age artistic creation was shot in the lush green locales of Puliyarakonam, Thiruvananthapuram, and depicts the romance between Lord Krishna and Radha on the banks of River Yamuna. Involving over 200 people, who worked across a period of 1,000 days, 'Gita Govinda' is a 21st-century interpretation of Jayadeva's celebrated 12th-century Sanskrit poem.
In an interview with DHoS, Pali Chandra speaks about her experiences of transforming the much-loved epic into a format that appeals to both the old and the young. Excerpts
This is said to be the first-ever digital compilation of 'Gita Govinda' in Kathak. How does it feel to have achieved this feat?
It's unbelievable, to be honest. When I think of the hours and hours of recordings that we did, and of those hundreds and thousands of hours, how much we actually deleted and rejected, it's daunting, yet overwhelming.
Why and how did you choose 'Gita Govinda'?
Actually, it was almost as if the theme selected me. My tryst with the epic began at the age of 15, but I could not understand the essence of it holistically. It was only when I came across the director of the project M R Hari that I thought about working on it. Since he knows Sanskrit and feels deeply connected to the environment, we got talking.
I also thought about my children who were born in the UK and raised in different parts of Europe and how they could connect to 'Gita Govinda'. That's when I realised that although the gap between the Sanskrit epic and today's generation is huge, the love story between Krishna and Radha is universal and eternal.
It took you five years to create the production. What were the challenges you faced?
It took five years chronologically but the entire process started even before that. It took me almost 10 years to understand the epic as it is in Sanskrit. Although there are many translations of 'Gita Govinda' done by people from different parts of the globe, they are very varied. So, to come to one conclusion was a very difficult task and almost impossible for someone like me, who doesn't understand Sanskrit all that well. 
I was introduced to people who knew Sanskrit and made a dictionary of the common words that are used in the language. So this was the first and the biggest hurdle and post this too, there were many more. For instance, the music conceptualisation was affected thanks to Covid and recording studios not allowing multiple people in at one time.
While shooting, we had to do many takes and I had to travel many times to the location to get the quality that we were looking for. We literally had to record everything, edit it and then say no!
Where would you want to take the project to, next?
I want to take it as a product to various places like museums, libraries, dance academies and universities. My first stop is India and the first workshop is going to be held at the platform where we recorded the epic so that's a full circle. Post this, I would like to start the next part of my journey, which is holding live residencies or residential workshops across the globe. I will perhaps head to Switzerland next and then to France, Germany, Italy and America.
Over the years, how has technology contributed to your art?
At a very early age, when I was doing my graduation, my father sent me to Singapore and New York to understand how to dance for the camera. At that time, I found it a waste of time, energy and resources. But I didn't know that this was a stepping stone. That was my first exposure and it was more theoretical than practical. I didn't have any experience with technology when I started working over 20 years back. Since then, it has been a trial-and-error method for all of us. I still remember the days when the crew used to carry huge cameras from one place to the other. Also, the times when the lights would get heated up so much that we had to stop the shoot to let them cool down before the bulb burst. But now it's extremely convenient. With advanced equipment, software and editing machines, the errors are fewer and the output much better.
Get a round-up of the day's top stories in your inbox