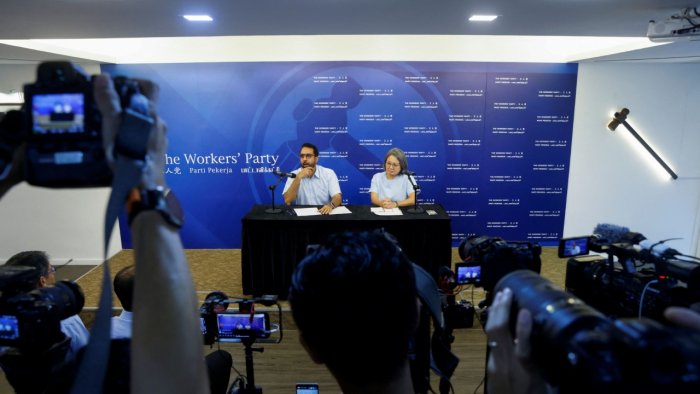 Indian-origin parliamentarian Leon Perera of Singapore's largest opposition party resigned after having an extramarital affair with a fellow party lawmaker in the House, the party announced on Wednesday, in the latest scandal to hit the city-state.
Perera, 53, and Nicole Seah, 36, of the Workers' Party (WP) resigned after having an extramarital affair, party Secretary-General Pritam Singh said at a press conference.
This comes two days after Parliament Speaker Tan Chuan-Jin and fellow People's Action Party (PAP) MP Cheng Li Hui resigned on Monday for having an affair. Both Tan and Cheng left their parliamentary seat and resigned from the party.
Also Read | In squeaky-clean Singapore, two political dramas raise questions
Perera informed the acting Speaker of Parliament that he would resign as a Member of Parliament (MP), said Singh, the opposition leader.
Both Perera and Seah are married and have children.
"Both of them admitted that they had an affair, which started after the General Election of 2020, but that it had stopped some time ago," Singh said, adding that Perera and Seah had previously informed the party that there was no truth to the allegations when they surfaced in 2021.
"Leon's conduct and not being truthful when asked by the party leadership about the allegations fell short of the standards expected of Workers' Party MPs. This is unacceptable," Channel News Asia quoted Singh as saying.
The development comes two days after a purported video clip showing the pair surfaced on Facebook, following which the party said it was looking into an "inappropriate exchange between two senior party members".
It added that it "expects all its members to fully own and account for their behaviour".
The silent 15-second clip appeared to show Perera – an MP for Aljunied – dining with 2020 General Election candidate Seah while holding and stroking her hands.
It is not known when or where the video was shot.
Singh said the party saw the video for the first time on Monday and that Perera's driver approached the party leader in early 2021, saying in a WhatsApp message that Perera and Seah were meeting "very often" at restaurants and hotels and that they were seen hugging and holding hands.
Singh said there was no evidence or corroborating information to support the allegation at that time, and Perera refuted the claims.
"Leon also shared with me that he was in an ongoing dispute with his driver and was about to terminate his services and had sought legal advice on the allegations of his driver," Singh said.
The pair sat on the WP's central executive committee. Perera headed the media team, while Seah was the youth wing president.
Perera first emerged onto Singapore's political scene when he ran as a candidate for East Coast during the 2015 general election. He became a Non-Constituency MP before joining the WP's winning slate for its Aljunied stronghold at the 2020 polls.
Prior to politics, he was a civil servant and later co-founder and chief executive officer of a business research and consulting agency.
Seah joined the WP in 2015, contesting in East Coast GRC at the 2020 polls after earlier stints with the Reform Party and National Solidarity Party. She shot to online fame as the youngest female candidate at the 2011 General Election when she was 24.
Seah was last reported in 2020 to be working at a multinational marketing firm.
Get a round-up of the day's top stories in your inbox