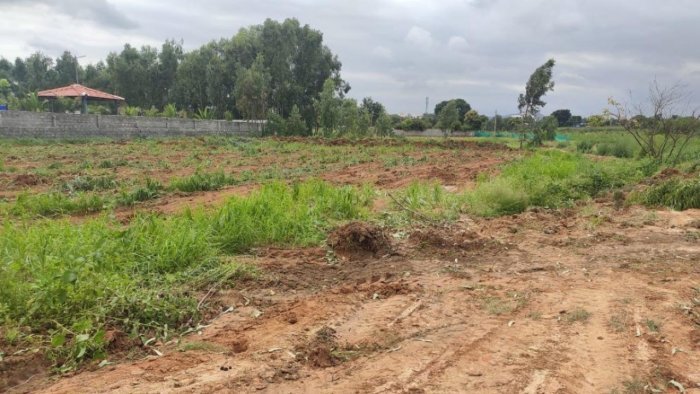 Cracking down on encroachment, the Forest Department officials on Tuesday seized a huge resort, built on 15 acres of forest in Morkannugudda of Sakleshpur range in Hassan district.
Action will be taken against the encroachers in the coming days.
The issue dates back to March 2022 when the department issued a notice to Stone Valley Resort and initiated a case against five persons, including the owner of the property and the tahsildar, Sakleshpur.
The 14-acre 36 gunta land, under encroachment, was part of the 7,938-acre 38 gunta, reserved as forest in 1920 by the Maharaja of Mysore under The Mysore Forest Regulation, 1900. The land has since been reclassified as a reserved forest under Section 4 of the Indian Forest Act.
Subhash Stephen, the owner of the resort, appeared before the authorised officer and agreed to withdraw his claim on 10 acres.
During the hearing, the village accountant of Devaladkere submitted that five acres of the land was illegally sanctioned and mutation was effected without necessary documents. The range forest officer's report put the total encroachment at 14 acres and 36 gunta.
The RFO said rich shola forests were destroyed to build a sprawling building, roads, a swimming pool, a tank and other amenities were built for commercial activities. Besides the forests, drain networks and swampy areas were also altered, a report said.
In his order issued on July 26, 2022, N Ravindra Kumar, the then Deputy Conservator of Forests, Forest Mobile Squad, Hassan, determined that the 14-acre 36 gunta, including the five acres illegally sanctioned by the Revenue Department, were encroached and 30 days were given for the occupants to evict from the land.
The order directed the department officials to take custody of the land and remove the encroachment with the encroacher told to pay for the cost of restoring the land to its original state.
"The encroacher was given more than enough time to appeal against the order. The department has finally acted on the matter," an official said.
Get a round-up of the day's top stories in your inbox