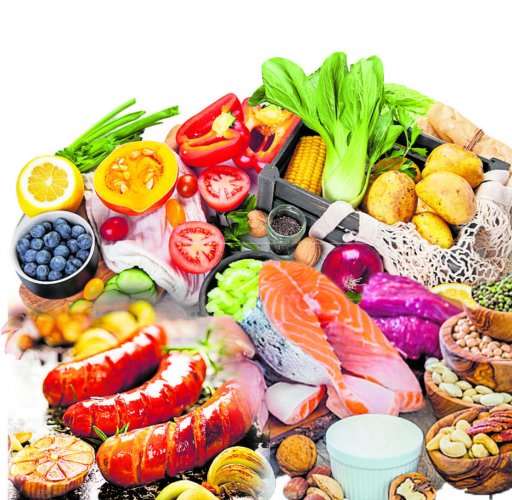 Doctors and fitness coaches busted myths about nutrition and shared insights from new research at a two-day summit in Bengaluru recently.
Following are some of the takeaways from The Edge of Nutrition 2023, organised by Happiest Health, an online platform for health and wellness information.
Weight Loss
You are most likely to lose weight when you eat breakfast like a king, lunch like a prince and dinner like a pauper, nutritionist and author Pooja Makhija said. Citing an Israeli study, she said 700 calories in breakfast, 500 calories in lunch and 200 calories in dinner are ideal.
Get proteins
Dr Nandan Joshi from Dr Reddy's Laboratories said Indians have lower muscle mass, so we must consume the right amount of protein, especially when we enter our 30s.
"Protein is important not just for mobility but also for metabolic functions", said the head medical affairs, Nutrition, India and Emerging Markets of this pharmaceutical firm.
According to Dr Surendra Nath, former principal at National Dairy Research Institute, one needs to consume an average of 60 gm of protein daily, of which 16 gm can come from tea, coffee, yoghurt or buttermilk. Egg is another key source, he added.
Dr Joshi shared the 3:2:1 formula prescribed as 'Recommended Dietary Allowance' by the Food Safety and Standards Authority of India (FSSAI). "This refers to 3 portions of cereals, 2 portions of legumes and 1 portion of milk," he explained, adding that it also promotes healthy ageing. He advises people to take up resistance training as it helps to maintain muscle mass.
Animal meat is a good source of protein but should be cooked lean, said Dr Supraja Chandrasekhar, director of paediatric services at DHEE Hospitals in Bengaluru.
Instagram myths
Krish Ashok, author of 'Masala Lab: The Science of Indian Cooking' countered myths propagated by influencers on social media. Using a microwave can cause cancer, is one of them.
He said, "Microwave is a non-ionising radiation. It does not have the energy to change your DNA. But exposure to UVB (Ultraviolet B rays of the sun) can cause cancer."
He took on another myth: Drinking water while standing up can affect lung and heart functions and even cause arthritis. He said there isn't enough research to back this up.
Plating for children
Dr Supraja insisted on the MyPlate concept to nurture healthy eating habits in children. An ideal composition is 50% fruits and vegetables, a quarter grains (whole preferably), a quarter protein and a side of dairy products.
Dr Nath said milk is a cocktail of several minerals and vitamins, and is good for all age groups. 
Get a round-up of the day's top stories in your inbox