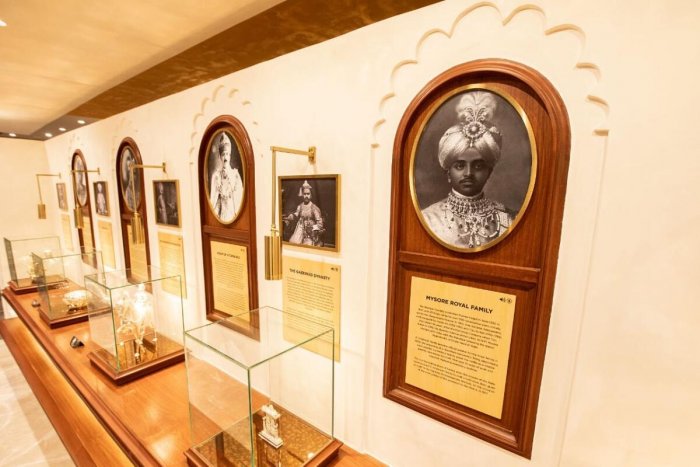 A city-based jewellery store has opened a museum to celebrate the artistry of antique Indian jewels. It was inaugurated on July 9.
Called Crystal Museum Salon, it is located in Shivajinagar and houses about 100 artefacts. It is an initiative by C Krishniah Chetty Group of Jewellers. The space houses a collection ranging from diamond-studded medals, earrings and golden helmets to pictures of the Nizam's jewellery  — belonging to the pre-independence era. The oldest piece is a medal given by the Queen of England to a British official in India in 1880. 
The launch event featured a chat with the director and chief curator C Vinod Hayagriv, neuroscientist Dr Deepti Navaratna and Manu S Pillai, author of 'The Ivory Throne' . 
"The museum aims to undo the lack of preservation and documentation of Indian gems," says Vinod. He plans to expand the range of artefacts in the museum from 100 to 200 in the next year. 
Manu shed light on the importance of attire and ornaments beyond aesthetics. "Different gems and metals held different levels of accessibility among castes, making the artefacts collected physical proof of a tragic history. This allows historians to discover different social aspects," he said. "While the British displayed artefacts from Indian rulers as exotic bursts of colour in fragmented locations, the Crystal Museum Salon hopes to provide one space dedicated to these gems and their stories," added Dr Deepti.
The museum allows visitors to learn more about the kings of Mysore, the Nizams, administrators, regents, and the citizens through visual, electronic and audio facilities.
"One of the pieces that I personally find interesting in our museum is a yellow diamond ring made for the Maharaja of Mysore, Krishna Raja Wadiyar, in 1945. The story of the ring being commissioned to be made and gifted to the sub-magistrate along with 10 kilos of silver, a saree brooch and land is very interesting," said Vinod. 
The museum visits need to be pre-booked through the website of C Krishniah Chetty Jewellers. It accommodates 30 people per day.
Crystal Museum Salon, The Touchstone, Shivajinagar; open from 11.30 am to 6 pm
Get a round-up of the day's top stories in your inbox