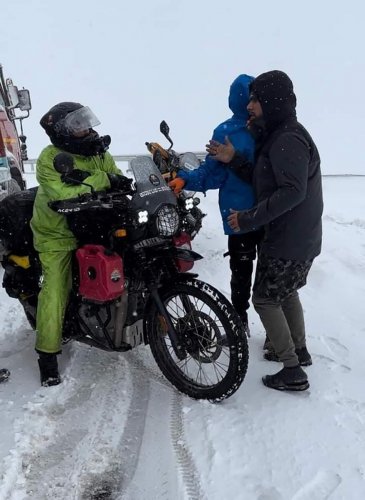 The catastrophic rains in north India have disrupted the plans of bikers from Bengaluru. After a few harrowing days en route to Leh-Ladakh, they are luckily safe and are rethinking their itineraries.
Khardung La Pass, the world's highest motorable road at 18,380 ft in Leh-Ladakh, is considered the ultimate destination for bikers in India. Chandigarh to Leh-Manali highway is a popular route. Others opt for Shimla, Mandi or Spiti in Himachal Pradesh, or cruise from Punjab to Srinagar in Jammu and Kashmir to get to Ladakh.
Return interrupted
Forty bridges have suffered damages, 1,300 roads have been closed, and at least 30 people have died in Himachal Pradesh alone. And the rains haven't relented in other parts of the north. This has forced bikers to abort their rides back.
Ajay Daniel and his 16-year-old daughter, Angelica, got on a flight from Delhi to Bengaluru on Thursday. They did not expect such an end to their K2K (Kanyakumari to Kashmir) adventure.
"We shipped our bike from Leh to Bengaluru and decided to fly out. We took a taxi to Manali. On the way, we got stranded in Sissu. There were landslides before and after. There was no electricity. The mobile network was scarce. Food in the hotels ran out. The temperature was in single digits," he said. They headed to Mandi after four days. It took them 10 hours to get to Mandi when it takes 3-4 hours usually. "It was crowded with tourists like us. From there, we took a bus to Delhi," he added.
His ordeal did not end there. "On the outskirts of Delhi, the police stopped all the transport vehicles. We got off the bus and walked with our luggage for many kilometres until we managed to hitch a ride," the 45-year-old shared.
Likewise, Girish P and five bikers are shipping their bikes from Srinagar and taking a flight. The initial plan was to go from Bengaluru to Ladakh and ride to Kanyakumari in Tamil Nadu on return.
Three more people are accompanying them, but in a jeep. They will stay back till the roads clear up. "It would cost a lakh or more to ship the jeep. We are paying Rs 30,000 per bike. Flight tickets are also expensive," he said.
The group escaped the floods in Manali by a day. Neither was the weather forecast alarming nor did the locals warn them, so they carried on. He said, "We had just entered Manali. It was raining; sometimes, snowing. Our bikes were skidding. There were no people. No vehicles were coming from the opposite direction as the road was blocked in Leh. It took us three days to ride 300 km from Manali to Leh. Last July, I rode the same stretch in a day."
Calculated risk
Some bikers have traded Ladakh for safer destinations, leaving tourist spots like Khardung La pass and Leh Market "almost empty", said Girish.
Nandini Nagaraj started her month-long expedition from Bengaluru with five bikers on July 3. "We lost two days in Amritsar (in Punjab) as it was raining terribly, and another two days in Mandi after a red alert was issued. Because of the uncertain weather, three bikers decided to head to Rajasthan while the rest of us proceeded to Srinagar," Nandini, a professional biker, shared.
Others are taking a calculated risk. Sarath Shenoy's group is four days behind their Chandigarh-Ladakh-Zanskar schedule. "The Kullu-Manali road is the most affected. If we can't take the Manali route back, we will go via Srinagar where the repairs are underway," said Sarath. He organises motorcycle tours.
Priyanka Prasad and three Bengalureans were waiting it out in Chandigarh when Metrolife called on Wednesday. "Our ride organisers are doing a recce of Mandi, Kullu and Manali to see if it is safe to travel. About 40% of riders have dropped from the ride," said the techie. Aware of the unpredictable and possibly extreme weather, she carried her laptop along so that she could work remotely.
Then, bikers like Murali Krishna P have pushed their Ladakh trip by 10 days, hoping for the inclement weather to clear up. "Readjusting office leaves is a nightmare. Now we will ship our bike to Chandigarh, fly there, and begin riding," said Murali, who works for a trading company.
Get a round-up of the day's top stories in your inbox