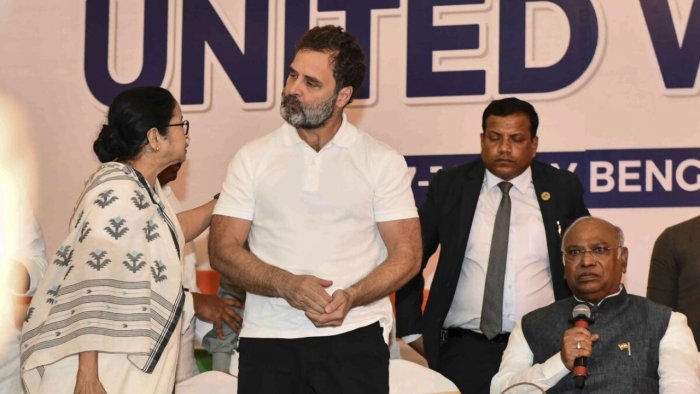 Parties in the newly minted I.N.D.I.A alliance are off the blocks quickly with its Parliament floor leaders deciding to meet on Thursday morning before the Monsoon Session starts to decide on floor strategy and issues to be taken up jointly.
The meeting will be chaired by Congress president and Leader of Opposition in Rajya Sabha Mallikarjun Kharge in his office at 10 am, an hour before the Parliament convenes, and all parties with Parliamentary presence will attend the meeting, sources said on Wednesday.
Also Read — Everything you need to know about new Opposition alliance I.N.D.I.A
This will be the first official meeting of Opposition leaders after the grouping christened themselves 'Indian National Developmental Inclusive Alliance' at a meeting attended by 26 parties in Bengaluru on Tuesday. All these parties do not have MPs in Parliament.
While the attendance of parties like Trinamool Congress have been a matter of intense speculation earlier, it would be an easy affair for the Opposition, especially the Congress, in holding such meetings after top leaders came on board.
On Tuesday, sources said, the leaders pledged that they will extend the camaraderie they showed in Bengaluru and it will reflect in Parliament too where they are expected to jointly raise issues. "It was decided in the Bengaluru conclave that there will be total coordination in Parliament," a senior Opposition leader said.
Also Read —  Opposition pitches NDA versus I.N.D.I.A battle for 2024
The 'Saamoohik Sankalp' (joint statement) adopted at the Bengaluru conclave gave a peep into what the Opposition is likely to raise in Parliament during the session that ends on August 11. 
Manipur issue will be on the top of the list while the Opposition also will display their unity during the voting on the bill to replace an ordinance that took away the control of bureaucrats from Delhi government.
The statement had said the parties expressed "grave concern over the humanitarian tragedy that has destroyed Manipur. The silence of the Prime Minister is shocking and unprecedented. There is an urgent need to bring Manipur back on the path of peace and reconciliation".
The "brazen misuse" of central agencies to fix political opponents, role of Governors and Lieutenant Governors in non-BJP ruled states, price rise, unemployment, hate campaign, atrocities against Dalits, adivasis and women and Caste Census would be among the issues that the Opposition are likely to raise.
The choice of subjects comes against the backdrop of the parties pledging in Bengaluru to present "an alternative political, social and economic agenda" and to transform both the substance and style of governance that will be more consultative, democratic and participative". 
Get a round-up of the day's top stories in your inbox