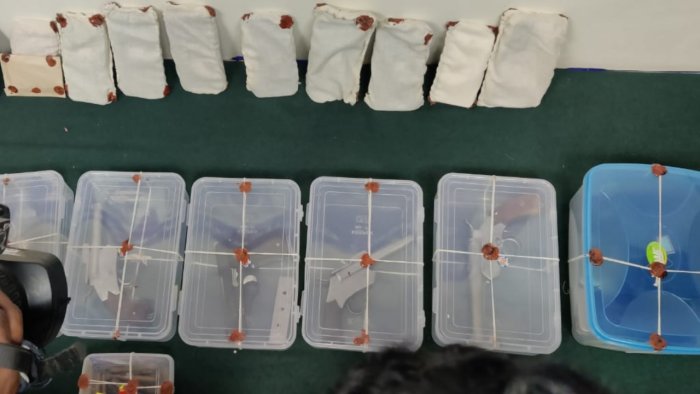 Central Crime Branch (CCB) sleuths in Bengaluru have arrested five terrorist suspects for allegedly planning explosions across the city. Police suspect involvement of a few more as another suspect named Junaid has fled abroad.
Addressing a press conference in Bengaluru on Wednesday. Bengaluru City Police Commisioner B Dayananda said the suspects were arrested on Tuesday from RT Nagar - Hebbal police station limits. 
The arrested have been identified as Syed Sohail, Umar, Mudasir, Zahid and Faizal. They were nabbed after Karnataka State Intelligence Division alerted CCB about their suspicious activities. The suspects were at Sohail's house when the arrest took place. The suspects are in technical cell right now and have been taken into a 15-day custody. The arrested have confessed to the police about the planned conspiracy.
Junaid, the main suspect, is on the run. He was arrested in 2017 for a murder he committed in RT nagar along with 21 others. Junaid was again arrested in 2020 along with his parents in Sandalwood case. A case was registered against Junaid in 2021 under sections 399 and 402 (preparation and assembling to commit dacoity), but he had absconded before his arrest. 
Junaid, while living abroad, regularly contacted the accused and conspired terror-related activities in the city. "He was sending money and the required explosive materials to the gang from abroad," a police officer said. 
Junaid was in contact with 2008 Bengaluru blast convict T Nasser while in jail in 2017 and got influenced by him. Nasser was a member of Lashkar-e-Taiba (LET). Police suspect that LET may have a role in this current conspiracy and few organisations are also involved. 
There were nine blasts in the city in 2008. A woman was killed near Madiwala and more than 20 people were injured. Nasser was arrested in 2009 after his link to the blast was confirmed.
Police said Nasser will be taken into custody for interrogation soon. He hails from Kerala. 
CCB have confiscated seven countrymade pistols, 45 bullets, walkie-talkie sets, a dagger, and 12 mobile phones. 
The arrested are aged between  25 and 35 years and lived in RT Nagar, DJ Halli, Sultanpalya and Kodigehalli. A police source said Junaid's father had some inkling about his activities. 
A case has been filed in Hebbal Police station under Unlawful Activities Prevention act. 
Get a round-up of the day's top stories in your inbox