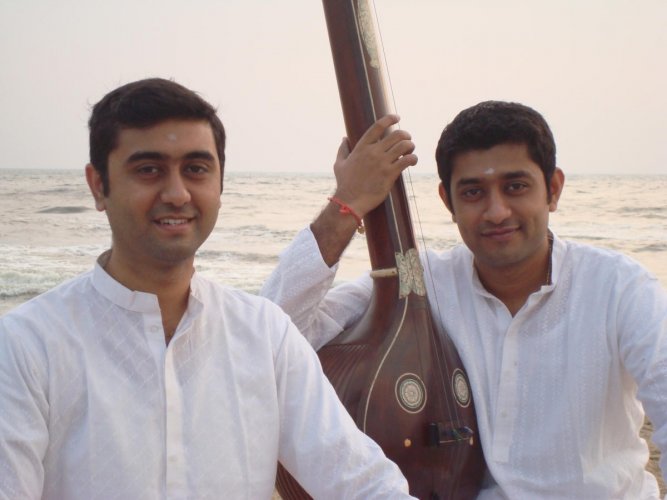 Carnatic musicians and brothers Srikrishna Mohan and Ramkumar Mohan, otherwise known as the Trichur Brothers, have in just over a decade built an impressive body of work. Hailing from a business family, they had an inclination for numbers and thus gravitated to chartered accountancy. Their natural progression to Karnatik music was a given, as their father is Mridangam Vidwan Trichur Mohan and they grew up in an ambience of music with legends like Chembai Vaidyanatha Bhagavatar, Semmangudi Srinivasa Iyer and M S Subbalakshmi staying at their ancestral home in Trichur. They also have a band Anubhoothi and run an online music school. Excerpts from an interview with Srikumar Mohan, talking for both the brothers. 
How has your journey in fusion been with the band Anubhoothi and your experience collaborating with different artists for the Namami Gange and Vande Bharathambe projects?
A lot of influence has come from our school days when we were part of school choirs. We had a music teacher, Jose sir, who was an ace guitarist, played the sitar, was a composer and sang bhajans ever so beautifully. Even the harmonisation we do in our Karnatik concerts has been inspired from our choir practices.
In a collaboration, every artiste brings their own expertise into the picture; we make sure that the unique identity of every performing artiste is not lost. The more musicians we work with, the more we end up learning. Be it Namami Gange, (the anthem for the National Mission for Clean Ganga), Vande Bharathambe, (a salute to the armed forces) or any other production, we draw a skeletal structure for the composition and every artiste comes with their own contributions to make the music sound better.
What are your upcoming projects?
We have a few in the pipeline. We quickly put together a production when we were in Utah, where we recorded both the audio and the video in two days. We are currently in postproduction. This is likely to be out very soon.
Can you share interesting experiences from your concerts abroad?
Jetlag is a challenge we face when we travel abroad, especially to the US, where there are multiple time zones. We had occasions where we performed in Santiago on the West Coast on a Saturday and then in Detroit on a Sunday, travelling across the country. One of our friends, who travels a lot told us that the best way to set your body clock is to walk outside at noon, whichever place you're in. That apparently works like magic. We followed that advice, and it actually does!
In most locations we make it a point to be there at least a day before the concert, look at the venue, and make sure the acoustics are right. Once, our baggage was stuck at Heathrow Airport. We had a pretty tight schedule — 22 concerts in one-and-a-half months. We started the concert in Philadelphia on Saturday and then we had to move to the next location. As soon as we left Philly, our host called to tell us that our baggage had arrived. It was shipped to the next location, but by the time it arrived there, we had already moved again. It was one of those hide-and-seek kind of experiences!
What is the best thing about international concerts?
We love meeting people during our annual trip to the US and other countries. During the Thani Avartanam, we ask the audience to join in and explain to them the number of beats of a particular talam. When the audience returns home after a concert, they should feel good about it and be able to get over their worries.
In our online platforms, we respond to everyone who poses a question on a particular aspect of our concert. The more knowledge we transfer to our listeners, the more they will enjoy the concerts. What more can an artist ask for?
Get a round-up of the day's top stories in your inbox