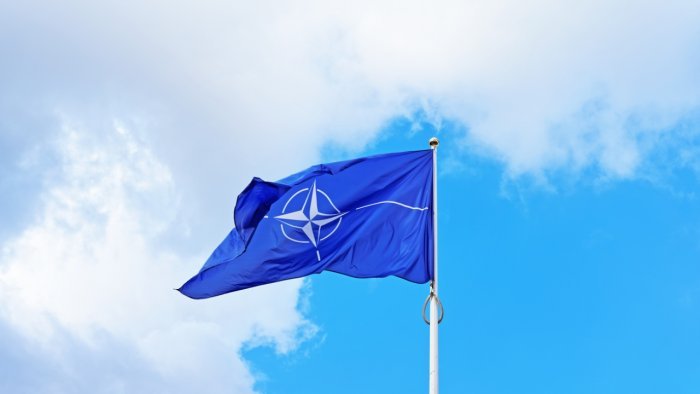 The NATO summit held in Vilnius on July 11-12 took place at a crucial time for NATO and European security. It coincided with the Ukrainian counter-offensive, stoking anticipation of the possible extension of NATO membership to Ukraine. However, while Ukrainian hopes remained unfulfilled, the alliance moved a step closer to inducting Sweden. More importantly, the member-countries pledged to each spend 2% of their GDP on defence as a floor limit, rather than as a ceiling.
Currently, less than half the members spend 2%. NATO's ground rule on mandatory increase in members' military budgets is expected to lead to a collective rise in industrial capacity and boost defence manufacturing. As the countries of Europe look to spend more on their defence, it is likely to be accompanied by external restraint.
Read | Why is NATO expanding its reach to the Asia-Pacific region?
The Vilnius summit also tracked the progress of the strategic concept and the promise of changing the force posture of NATO since the Madrid summit in June 2022. It aimed to evaluate the implementation of the strategic concept, which emphasised defence and deterrence through increased forward-deployed forces, collective defence exercises, and a larger high-readiness reserve. With the war in Ukraine, eastern flank readiness is of utmost importance to NATO, which has seen enhanced battlegroups in Bulgaria, Estonia, Hungary, Latvia, Lithuania, Poland, Romania, and Slovakia, as well as additional ships, planes and troops along the eastern flank from the Baltic Sea to the Black Sea.
Building upon the Madrid summit of July 2022, where NATO allies collectively recognised Russia as a direct threat, the Vilnius summit aimed to fundamentally restructure the alliance posture, armament and strategic priorities. Most importantly, it marks the return of the politics of alliance -- allianzpolitik -- in Euro-Atlantic security in the most striking manner in post-Cold War global order.
Ukraine's aspiration for NATO membership was a central topic of discussion and member-countries assured Kyiv of it in the future. Including Ukraine in NATO, even as the war rages on, could have been counterproductive. The US, particularly, has been cautious on including Ukraine in NATO, lest it leads to a breakdown of all channels with Russia, making future negotiations impossible. As it is, the US has been denied audience by China through its refusal to get on phone calls and meetings at the highest levels. Washington cannot afford relationships with two major powers being guided by petulance.
The step to take Sweden closer to NATO membership was perhaps one of the most important developments. Turkey's support to Sweden's membership has signalled a shift in Ankara's stand, both due to a desire to mend frayed relations with the US as well as to a growing uncertainty about Russia's own capability after an internal mutiny. As for the question of memberships, what the NATO summit at Vilnius showed most assuredly is that the narrative on Ukraine's membership has transcended beyond the symbolic act of Kyiv's inclusion itself. What is important from NATO's perspective is to create an ecosystem of collective defence relationships spanning all its 31 (Sweden included) members which guarantees protection to Ukraine and deters Russia. As such, enhancing security guarantees for Ukraine was a strong focus of the Vilnius summit.
There is a growing desire in NATO to draw interlinkages with the Indo-Pacific, much of which rides on the threats from China and North Korea. The summit categorically underscored the threat from China and signalled its intention to strengthen cooperation with Indo-Pacific partners. In particular, the US' Pacific allies Japan, Australia, New Zealand and South Korea have been potentially identified as strategic nodes, as NATO seeks to explore and expand in the Pacific region. Japan is at the forefront of that strategic mapping by NATO, which had earlier announced that it would open a liaison office in Japan to deepen ties with other countries in the Asia-Pacific region. The establishment of a NATO office in Tokyo and the extent of collaboration with Indo-Pacific partners remain subjects of future consideration.
Going forward, the creation of the first NATO-Ukraine Council and structural changes to factor long-term investments, capacity-building and creating a standardisation of defence ecosystem across Europe are likely to consolidate NATO's status as the foremost block for alliance politics. As NATO's reach spreads as far as the Indo-Pacific, it will be interesting to see how these strategic aspirations, symbolic of allianzpolitik, are juxtaposed with fundamentally multilateral ideals in the Indo-Pacific.
As the global order seemed to be recovering from the Covid-19 pandemic, supply chain connectivity resumed and countries looked upbeat about resuming economic and political relations, Europe was engulfed in a major continental war. Posturing, positions and grandstanding around the war have only hardened, scripting the resurrection and subsequent strengthening of NATO and, perhaps, paving the way for the return of bloc politics in Europe, which could impact the whole world.
(The writer is a Fellow at ORF, New Delhi)
Get a round-up of the day's top stories in your inbox