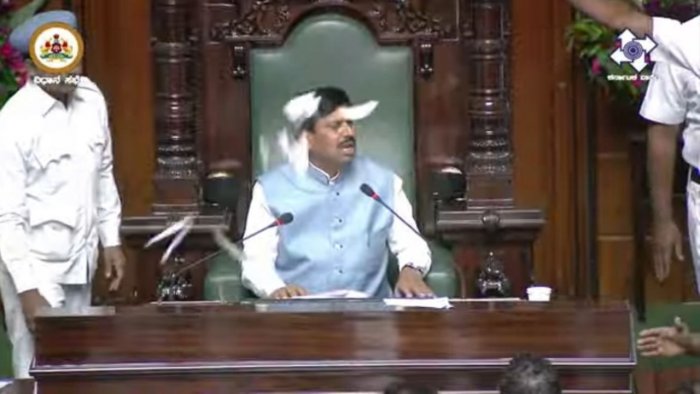 The Karnataka Assembly on Wednesday plunged into chaos with unruly scenes after angry BJP lawmakers tore copies of bills and threw them at Deputy Speaker Rudrappa Lamani's face. 
BJP MLAs were already in the well of the House on a protest when things went out of control. 
BJP's V Sunil Kumar, Vedavyas Kamath, Araga Jnanendra, Yashpal Suvarna and others started throwing torn papers at Lamani. 
When the day's session started earlier on, BJP lawmakers raised the issue of the Congress government deploying IAS officers for the 'United We Stand' meeting held on Monday and Tuesday. They said it was misuse of government machinery. 
After Law Minister HK Patil defended the government, BJP MLAs jumped to the well of the House in protest. 
Also Read | BJP-JD(S) unity stalls APMC Bill in Karnataka upper house
Amid disruption, Speaker UT Khader allowed Home Minister G Parameshwara and Chief Minister Siddaramaiah to make separate statements. Khader also allowed five Bills to be passed.
"There won't be a lunch break. The House will continue. MLAs will now speak on the Budget. Those who want lunch can eat and come back," Khader said, asking his deputy Lamani to officiate the proceedings. 
This was seen as an attempt to put the agitating BJP MLAs in a fix. They now had to decide on whether or not their protest should continue. 
That's when things went out of control. "How are you running the House when it's not in order?" Kumar, a former minister, shouted at Lamani, while throwing copies of torn Bills at his face. 
Marshalls were summoned to guard Lamani, but pieces of papers kept flying towards his face. "Under what rule are you continuing the House without a lunch break?" Kumar was heard asking. 
At one point, Lamani ordered the Marshalls to "send them out" and said the behaviour of MLAs was unbecoming. He was forced to adjourn the House till 3 pm. 
Congress lawmakers, including ministers Krishna Byre Gowda and BS Suresha (Byrathi) took the Marshalls to task. "What were you doing when papers were being thrown at (Lamani's) face?" Gowda said. Suresha said the Marshalls should be suspended. "You allowed this to happen to a Dalit who was on the chair," he said. 
Congress is likely to push for suspension of the BJP MLAs. 
Get a round-up of the day's top stories in your inbox